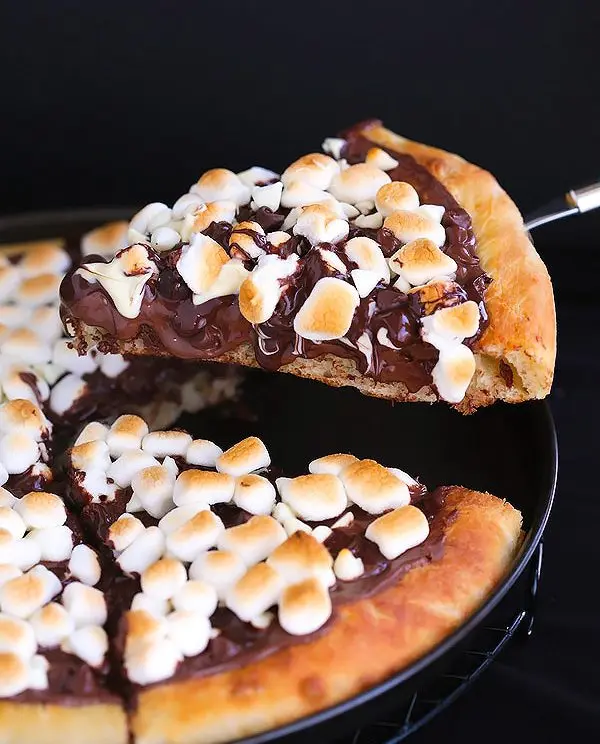 So after a great meal of pizza, what comes next? Why pizza dessert, of course. This plays into my belief that you really can't ever have too much of a good thing, and pizza is a really good thing. Even the big chain pizza guys have been getting into the act lately, with their cinnamon and Oreo pizza desserts. While these are a nice change of pace, I think you can come up with something even better by making some of these sweet treats right at home.
So, what is a dessert pizza? Well, a dessert pizza is a sweet pizza pie. It can be made on regular pizza dough or on a cookie type crust. One thing to remember is that many dessert pizzas use a prebaked crust. This works well for dessert pizzas that are topped with chilled ingredients, like cream cheese and fruit. Most crusts can be baked in a 350 degree oven for 10-20 minutes, depending on the thickness of the crust and your desired level of doneness.
Depending on your taste, you can start with a regular pizza dough recipe (be sure to leave out any seasonings like the garlic and Italian herbs and spices). When using this type of dough, you can place the dough right onto a pizza stone in your oven to cook. If you want a softer crust (which I prefer for dessert pizzas), use a baking sheet or round instead, pressing your dough to fit.
You can also use a cookie dough as your crust. This can be as simple as using premade cookie dough from the store. Any type of dough will work, including sugar cookie dough, chocolate cookie dough, or peanut butter cookie dough. If you want to try your hand at making your own, in general, you can simply use any good cookie dough recipe you have. Brownies also make a nice base for a dessert pizza. You can even roll out pie dough into a circle and prebake it before topping. This base can be topped and returned to the oven if you are using a topping that needs to be heated, or simply topped with cold ingredients and left to chill until serving. Here are some great combinations to try:
S'mores Pizza
Press sugar cookie dough into a pizza pan and bake in a 350 degree oven for about 10 minutes or until golden. Remove from oven and let set. In a medium saucepan, melt 2 cups of semisweet chocolate chips and one 14-ounce can of sweetened condensed milk. Spread this mixture over the crust. Sprinkle with some chopped chocolate or some candy coated chocolate candies, along with 2 cups of miniature marshmallows. Return to the oven for about 4-5 minutes or until the marshmallows begin to toast. Serve immediately or chill until ready to serve.
Fruit and Cream Pizza
Mix 8 ounces of softened cream cheese with the same amount of marshmallow cream until well blended. Spread on your cooled cookie dough base. Arrange sliced fruit on top and sprinkle with powdered sugar. Chill until ready to serve.
Peanut Butter and Bananas Pizza
Prebake a sugar cookie crust. When cooled, spread with chunky peanut butter and marshmallow crème. Layer on some sliced bananas and drizzle the whole pizza with honey.
Apple Pie Pizza
Roll out pie pastry into a large circle. Place on a pizza pan and prick all over with a fork. Bake in a 350 degree oven for about 15 minutes. Combine 8 ounces of softened cream cheese with 1/2 cup of sugar, and mix until well blended. Add 2 eggs and 1 teaspoon of vanilla. Spread this mixture onto the prebaked pie crust and return to the oven for 8-10 minutes or until the filling begins to brown slightly. Remove from the oven and top with apple pie filling, a sprinkling of sugar, and some allspice. Chill until ready to serve.