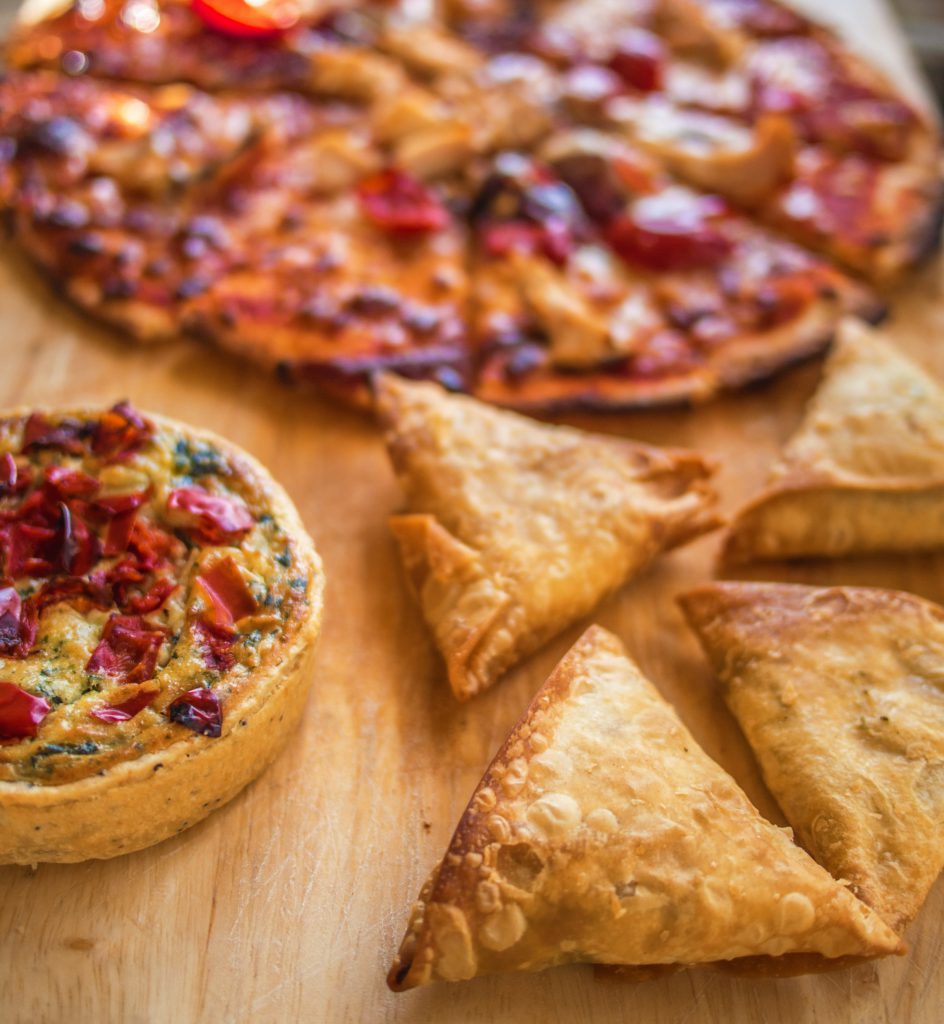 There is no doubt that a pizza makes a great snack or appetizer. Since pizzas can be made in any size you'd like, it is easy to make smaller pizzas as an appetizer. There are also pizza-type snacks that are easy to make, small enough to be finger foods, and are fun crowd pleasers. While you can always stick some supermarket pizza rolls in the oven, it is so much better to make your own special pizza snacks right in your own kitchen. Here are recipes that will get your creative juices flowing:
Roasted Garlic Pizza Bread
Roll or stretch your pizza dough out into individual sized crusts. Bake until golden and remove from the oven. Spread fresh roasted garlic on the top of the crust, top with some freshly grated Parmesan cheese, extra virgin olive oil, a sprinkling of kosher salt, and some freshly cracked black pepper. You can also add some freshly chopped herbs if you'd like. Serve warm.
Pizza Swirls
Roll out your pizza dough into a large rectangle and lay on a lightly greased baking sheet. Layer on your favorite pizza toppings, making sure not to overfill the dough base and keeping all toppings about 1/2 inch away from the edges. Sprinkle with some mozzarella cheese. Roll the pizza from one of the smaller edges, like a jelly roll, and seal the edge with a fork. Bake in a 350 degree oven for about 25 minutes or until golden brown. Cut into one inch slices to serve. Great served with a marinara or ranch dressing dipping sauce.
Pizza Dip
1 8-ounce package softened cream cheese
1 cup pizza sauce
1/4 pound diced pepperoni
1 chopped onion
1 small can chopped black olives
2 cups shredded mozzarella cheese
Spread the cream cheese on the bottom of a lightly greased 9-inch pie pan. Top evenly with the pizza sauce. Sprinkle with the remaining ingredients, ending with the mozzarella cheese. Bake in a 400 degree oven for about 20-25 minutes. Serve with a firm chip, such as Frito Scoops or tortilla chips.
Potato Pizza
3 medium potatoes, cut into 1/4-inch slices
1 tablespoon vegetable oil
1 (14 ounce) jar pizza sauce
1 green bell pepper, chopped
1 onion, chopped
2 fresh mushrooms, chopped
1 (3 ounce) package sliced pepperoni
1 (16 ounce) package shredded mozzarella cheese
Arrange the potato slices on a baking sheet that has been covered with foil and lightly greased. Drizzle the potatoes with the oil and bake for about 20 minutes in a 425 degree oven. Remove the potatoes from the oven and turn. Evenly spread the pizza sauce over the potatoes, and top with the remaining ingredients. Return to the oven and bake for another 10 minutes or until the cheese is melted.